Rikil bent down and to Kressara's surprise, he began to speak in a language she did not know. His hands seemed nearly bathed in a soft light as he pulled an arrow from Havan's side. Havan had passed out from the loss of blood and her companions began to move up the slope toward them.

Below a mass of Haradrim bodies laid in different postures of death. Some still moaned but it was obvious that they'd never leave the space that they had fallen. Gowen's ability with that shield was an impressive sight. The Haradrim were confused by his way of fighting. Forgus looked battered and even though another arrow protruded from his arm now, he still hoisted up his massive hammer and grinned at them.

"Well, If I knew 'kissing' was involved I think we could have gotten here much sooner," he said in his deep voice. Wick chuckled but Yearly looked confused at his words. "Wick, yearly, find us a way out of here," Gowen said plainly and the two men stopped their levity immediately. They nodded and stepped away quickly as Gowen took a knee beside them and looked down at Havan. He had finally succumbed to his injuries and Rikil covered the arrow with a cloth as he extruded it from his flesh. Gowen set his spear butt down and held himself up with his hands on the shaft. "Can he travel? We can not remain here," he said. "We're far too close to the road," he said as he looked over his friend. Havan was covered in filth and his leathers and uniform were in tatters.

"We'll need a litter," Rikil said as he removed his hands. He felt at his head and looked pale as he sat back. Whatever he had done it had obviously taken alot out of him but Kressara could see Havan's color looked better and his breathing seemed to come easier for him now. He still looked as if he had been through hell and back though.

"I saw they had spears and halberds, I'll fetchem," Forgus said and set his hammer back onto his back once more as he headed back down toward the dead. "We'll be hard-pressed to arrive in time for the diversion," Gowen said. Everyone knew carrying a litter did not allow for hasty movement. "I could…" Rikil began but Gowen turned and furled his brow at him. "No Rikil, if you did then it would be you we carried instead," He said. Rikil nodded in agreement.

Kressara remained close to Havan's side as his eyes began to close. She felt fear rise up within her, but suddenly Rikil appeared. He knelt down close to Havan and spoke in a strange language that Kressara had never heard before. From his hands a soft light appeared and she watched quietly as he pulled the arrow from Havan's side. She ripped a long piece of cloth from her cloak and used it to bandage Havan's side and stop any further blood loss. She could tell he had already lost quite a bit and hoped that her makeshift bandage would work well enough until they were able to get him to the city. By this time the others had arrived. Looking down at Havan, Kressara could see that his color looked better and he was breathing much easier. She breathed a slight sigh of relief, though she knew that they were far from out of the woods at this point. Carrying Havan on a litter would require them to move more slowly than they had been before and they would be unable to hide as easily from the remaining Haradrim. However, she was willing to do whatever it took to get Havan home.

While the others were discussing a plan Kressara looked at Rikil. "What language was that you were speaking before?"

XslvrstarX

Admin




Posts

: 3144


Join date

: 2016-05-03



It was then that Kressara caught Rikil's gaze and he smiled at her. Though she was in love with Havan, Rikil's face and the warmth in his eyes...he was just...beautiful...for a man anyway and that's when she knew. Rikil was a Half-Elf. And what he was saying and doing. He spoke an ancient form of elvish, he was using healing magic. It was then that she looked around at each of her companions in turn. Gowen, the likable leader who used his abilities to protect his men, Forgus the gentle brute of a man, Yearly, the silent shadow, Wick, who never missed with his bow...and Rikil, a Half-Elf healer who likely trained with Elrond's people. It was impossible to know his age now that she looked at him. His eyes looked wiser now though that could just be her imagination. Each one came for Havan and for her. Forgus returned with several leather tunics and long, wooden shafts he had hammered off the spear tips and halberd blades. He and Gowen began to cut the leather and assemble a litter for Havan.

Was this what is was like for her mother and father? She had heard of those heroes that accompanied them in their adventures and battles. Men, Elves, Dwarves, Hobbits and the Wizard Gandalf. Her little band were among the best that Gondor had as far as fighting men and they had followed her without blinking an eye.

"Forgus and I can carry him," Rikil said. "While the rest of you keep us alive," He added as Forgus grunted when he ripped out an arrow. Rikil hurried to his arm with a treated bandage. "I bet we could make it if we pushed," Forgus said confidently. "It would not do to get killed now after we found Havan...if we move too fast we will encounter too many Haradrim I think," He said. We could scout ahead true enough but eventually there will be no choice in either evasion or battle and neither will save us time but evasion lessens the chance of more injuries," Gowen said. He was speaking his thoughts aloud more than anything. "Kressara? Your thoughts on this?" He asked.

How had she failed to notice it? It was so obvious to her now. Rikil was half elf. She should have seen it considering that her own mother was half elf. She had never heard that form of elvish before and could only assume that it was ancient. It had been quite beautiful and she wished that she had the time to learn it herself. However, she was glad that Rikil had come with them and saved Havan. In fact, looking around at the rest of the men, she was glad that they all had come. She had been foolish to think that she could have done this without them. She owed them all a deep debt of gratitude that she wasn't ever sure she would be able to repay. Without them it was very likely that both she and Havan would have died. She had not known most of them them until a few days ago, but now she considered them her dear friends.

Within a few moments Havan was secured onto a makeshift litter and she knew that they would need to begin moving as quickly as possible without injuring Havan further. Kressara listened to Gowen and pondered the situation carefully before speaking. "We have risked our lives enough on this mission. Now that we have Havan and will have to move more carefully and slowly I believe that evasion is our best option."

XslvrstarX

Admin




Posts

: 3144


Join date

: 2016-05-03



Gowen nodded in agreement and handed her his canteen. The others took a moment to choke down half an iron ration bar then took a few drinks from their canteens as well. As Forgus and Rikil worked to set Havan onto the litter Yearly and Wick came into view. They signaled Gowen and he nodded.
"We need to move," he said and handed Kressara an extra quiver filed with mismatched arrows that he had been collecting as they traveled. It was then that she got a good look at his shield.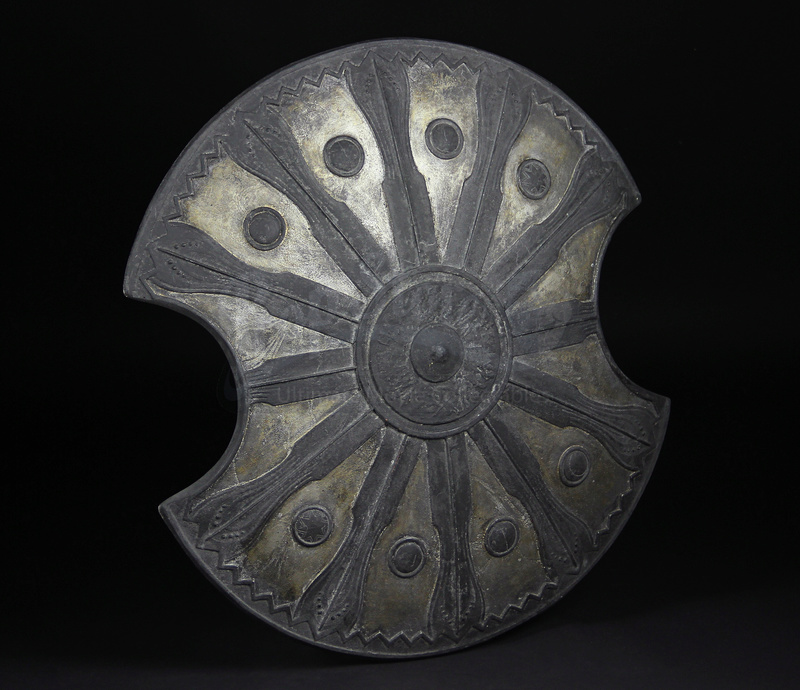 It looked old, very old but didn't seem to have a stretch on it. At closer inspection she noticed the metal and how it seemed to capture the sunlight even though he had scrubbed it with a bit of coal to darken it. It was extremely light or it's size and she had seen him throw it at an enemy to knock him off-guard them spear him quick and take the shield back up almost without breaking a stride. Forgus had taken down several of the heavier armored soldiers with his massive hammer that he could hold in one thick, tree trunk like arms of his.
They started down the slope, loose shale and rocks slid down with them in their haste to start moving. Forgus and Rikil seemed to hold the litter well, their burden distributed between them and they were able to shuffle along at a decent clip without bumping Havan around too much. The coming of darkness was only going to aid them as they moved along with Havan.
Two days later the group finally made it back into the Encampment. The sun had already set, but they had continued on, knowing how close they were. Kressara was covered in dirt, sweat, and dried blood but she didn't care. They had found Havan and they had all made it back alive...Kressara without a single scratch on her. She was exhausted and hungry, but was only thinking of Havan. She refused to leave his side, and went with him to the Healers.

She remained at his side through the night as the healers tended to his wounds. When the healers finally left she found herself alone with him. She took a clean cloth and soaked it in some cool water. She wrung it out and then lightly dabbed away the dirt and blood from his face.

XslvrstarX

Admin




Posts

: 3144


Join date

: 2016-05-03



Havan lived but the healers had told her that though his body would recover, his mind might have a difficult road to recovery. Over the next day Kressara had managed to change his clothes and wash him free of the dirt, blood and grime of his ordeal. She had learned that due to the fault of a Captain who had made mistakes, Havan's squads had gotten separated from the rest of their attack force and their offensive had turned into an all out route in which they took heavy casualties. Out of 18 men...good men by Gowen's account, only Havan had survived. It was true that they killed many more of the enemy than their numbers but Havan had slept, eaten, bathed and lived with the men under him. Some were friends and they all respected him. There was no one left to be angry at, now there was just her and Havan.

The next morning when she returned to his tent she was shocked to find one of the porters being bandaged just outside of his tent by Rikil. He had sustained a long cut across his hand. "I wouldn't go in there Kressara. He's...dangerous...now," He said softly but would say no more and did not stop her from entering.

Inside she noticed immediately that Havan was not in his cot where she had left him. She sensed him huddled on the floor under his cot clad only in his small clothes. He had gotten a dagger from...somewhere and held it tightly to his chest as if he feared someone might try and take it from him. It was dark inside the tent and she heard him breathing there under the cot.

"Is that you Kressara?" Havan asked in a dry croak. His voice was very hoarse and urgent. "You left me here...defenseless!" He said in a grim, agitated tone. "They're out there...Close...too close. I can feel them...can't you?" He asked and he shifted slightly as if trying to listen to something. "They slither like snakes in the dark...I know they are out there, coming for me!" He hissed and clutched his dagger with both hands that shook uncontrollably.

Kressara could tell that what had happened out there had affected Havan deeply. How could it not? She could only imagine the hell that those men had been through. She just hoped that she would be able to help Havan get past this. She swore that she would do whatever it took to help him. None of this was his fault, but she knew him well enough to know that he would likely blame himself for the deaths of those men.

She had stayed through the night with him, but in the morning she had left to find something to eat and bring something back for him. As she was nearing the tent she could see that a porter was outside and appeared to have been injured. Drawing closet she could see the long cut that appeared to have been made by a dagger. Rikil was bandaging the porter's hand and she sighed when he told her Havan had done it. She was not afraid of him and knew that he wasn't truly dangerous. She stepped inside but did not immediately see Havan, however it only took her a moment to figure out where he was. He looked like a frightened animal that had been backed into a corner. She approached the cot slowly.

"I'm sorry I left you," she said gently. "I brought us some food for breakfast." She slowly crouched down by the cot and looked at him. "You are safe now. We won't let anything happen to you. Are you hungry?"

XslvrstarX

Admin




Posts

: 3144


Join date

: 2016-05-03



Havan answered her by snatching food from her hand and shoved it hungrily into his mouth. He ate what she had brought quickly as if he were afraid someone might try and take it from him. Every once in a while he'd pause to listen for something as if at any time, an enemy would be upon him.

"Did...did Cassian make it?" He asked after he swallowed a mouthful. But then his memory came back to him. "I let my men die Kressara...it's not right to come back, alive when all your men are dead," he said solemnly and appeared to have lost his appetite. His eyes were red rimmed as if he hadn't really slept. "It was all such a waste," he said disgustedly. "They needed a real leader out there!" Havan said with a growl.

Kressara watched as Havan snatched the food from her hand and began to shove it into his mouth as if he would never eat again. It broke her heart to see him like this and she fought back tears. The Havan who had left her over a month ago had been strong and confident and now he was but a shadow of his former self. She knew it would take time and patience and even then it was possible that the Havan she knew and loved would never return to her. But she would try everything to bring him back.

Slowly, she reached out and placed her hand atop his. She gave his hand a gentle, loving squeeze as she looked at him. "None of this is your fault Havan. There was nothing you could have done. Those men fought courageously and their memory will not be forgotten. You were extremely lucky to have survived." As more tears filled her eyes she lifted up his hand and pressed it against her cheek. "I...I thought I had lost you."

XslvrstarX

Admin




Posts

: 3144


Join date

: 2016-05-03




---
Permissions in this forum:
You
cannot
reply to topics in this forum